The home improvement industry is booming. Call it the HGTV effect, which has inspired millions of U.S. viewers to knock down walls, install kitchen islands, and outfit their living room walls with shiplap so they're Instagram-worthy. Or maybe it's because folks have more money in their pockets thanks to a stronger economy, and want to invest in their homes.
The average homeowner is taking on more improvement projects—and dropping more dough on them, according to the 2017 True Cost Survey from the national home services marketplace HomeAdvisor.
The generation gap in most-wanted improvements
We're all familiar with the stereotypes: Millennials aren't in any rush to settle down; they're delaying traditional milestones of adulthood like getting married, having babies, and buying homes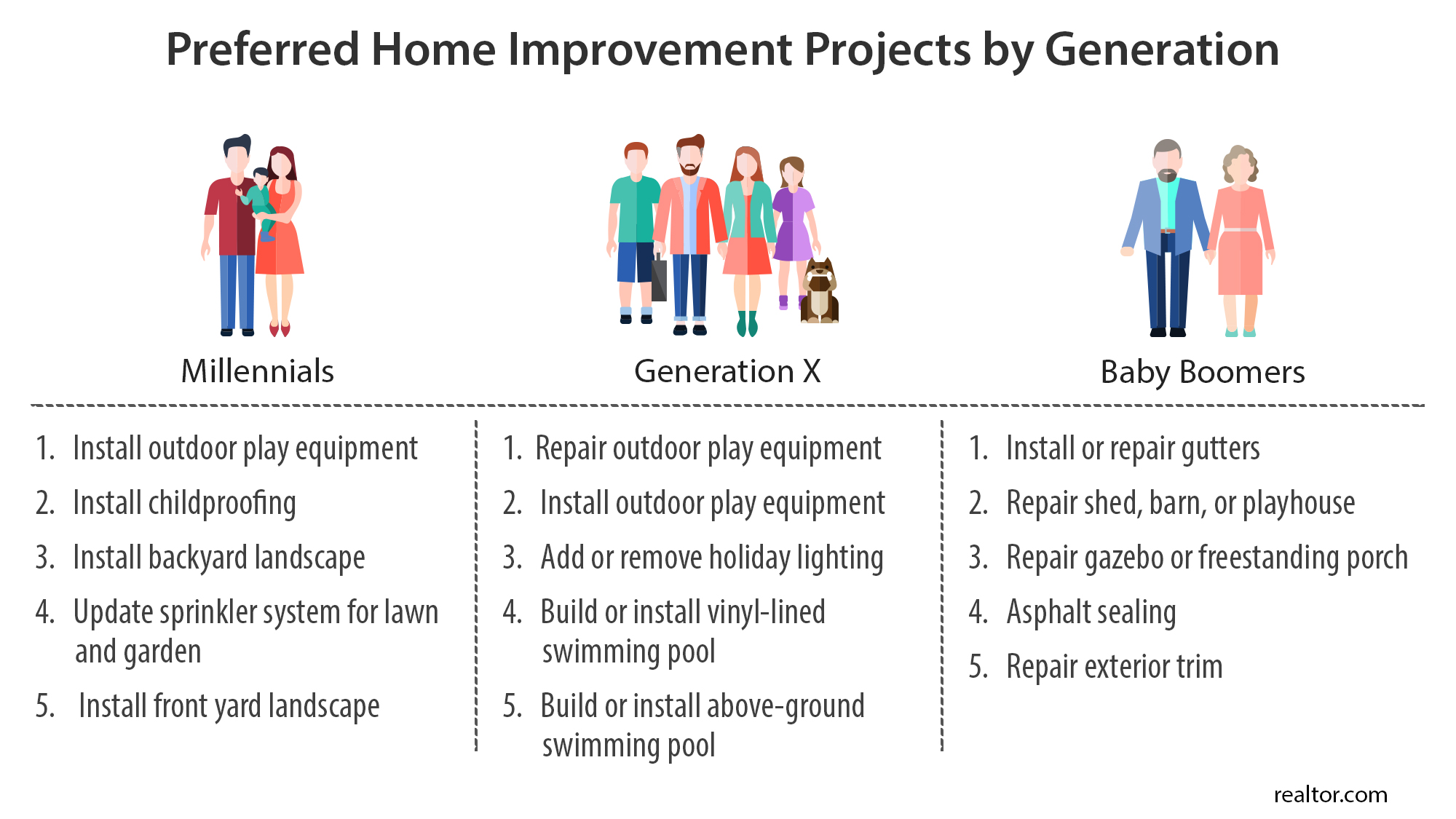 True or not, the "kids" of this generation are growing up. And now that millennials are starting to tie the knot, even die-hard urbanites are starting to leave the cities for the suburbs, as they begin raising families. Unfortunately, they're doing so at a time of record home prices in many markets. This means they're often forced to buy smaller, older homes that are farther from the city center and need some serious work.
These younger adults gravitate towards home projects like installing outdoor play equipment for the kiddies and childproofing their homes. In fact, they're 2.5 times more likely to request child-related jobs on HomeAdvisor.
Aside from kid-friendly undertakings, the eight services that the youngest homeowners (34 and under) are mre likely to request are related to expanding their living space, whether it's remodeling a basement or landscaping the exterior. These are the kind of improvements that allow you to enjoy your home more, but they're not exactly exciting.
What about Generation Xers? Those in their mid-30s to mid-50s, sandwiched between attention-hogging millennials and baby boomers, are also spending on their kids and optimizing living space. However, with more equity and potentially higher salaries, they're more likely to seek out high-end upgrades like new pools, outdoor kitchens, and professional holiday lighting.
But it's baby boomers who top the list of big spenders, forking out the most cash on nonessential improvements when they're not repairing what they've already got. They were more likely to fix gutters, sheds, playhouses, gazebos, and freestanding porches.
Maintenance is important for boomers, who need to keep their property values up if they plan to eventually sell their homes and retire on the proceeds.
From essential maintenance to big-ticket splurges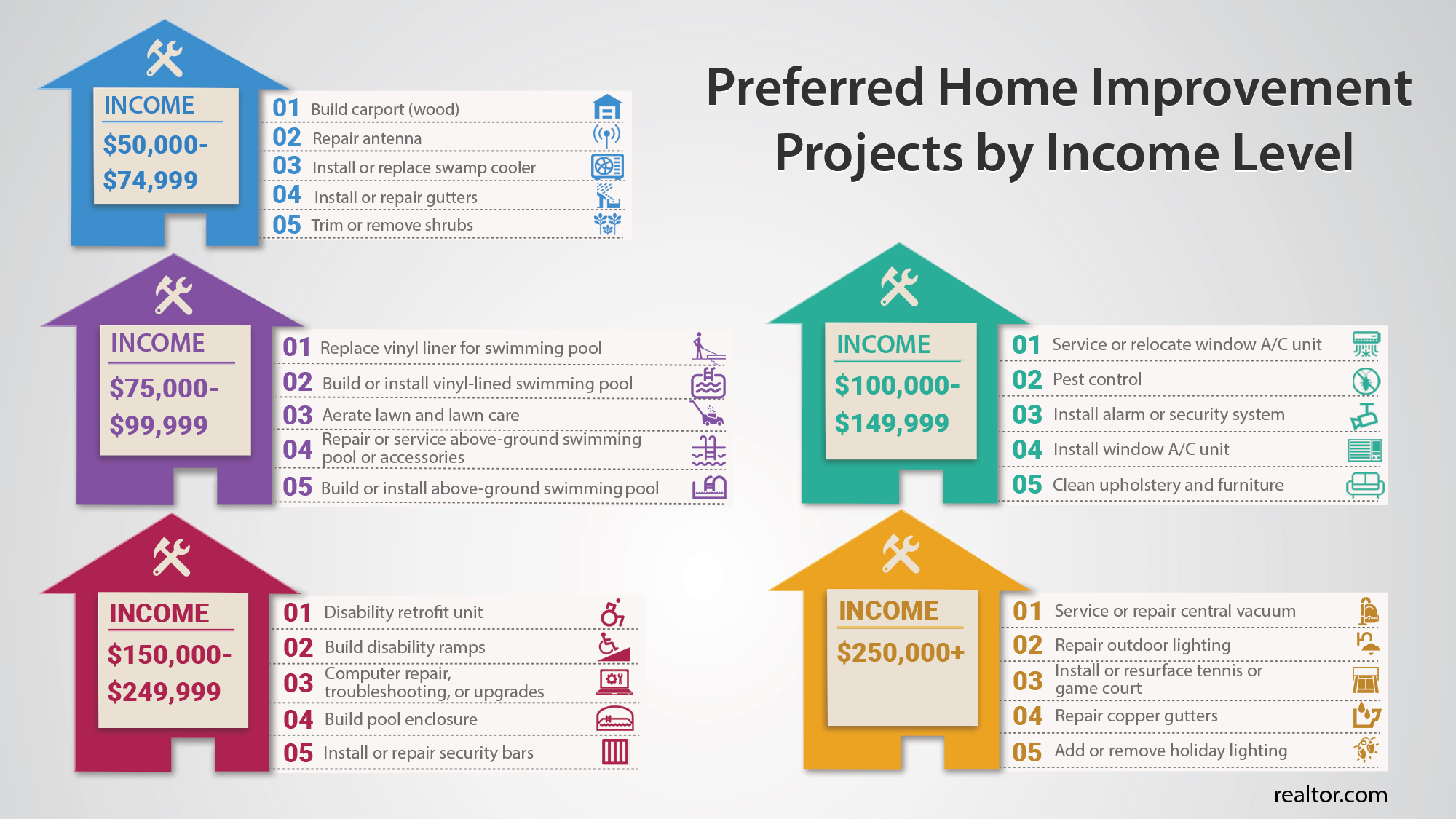 Clearly, how much you're raking in each year determines whether you spring for a fresh coat of paint in the master bedroom, install that drool-worthy outdoor hot tub, or build a landing pad out back—for your private jet. Or whether you make any improvement at all.
For example, installing or repairing swamp coolers is popular with those making less than $75,000. The coolers are like cheaper versions of air conditioners, which lower the temperature inside homes by adding moisture to the air. Plus, they only use a fraction of the electricity of A/Cs. Building new carports is also a priority—a project more likely to be requested by those earning between $50,000 and $74,999.
Earners in the $75,000 to $100,000 bracket indulge in some less essential projects like maintaining or installing above-ground swimming pools, followed by aerating their lawns.
It's only when you get into the $250,000-plus category that the real luxury-ticket items appear—although some are weirdly practical. Homeowners in this bracket are more concerned with fixing their central vacuum systems. With these systems, it's as if the body of the vacuum is inside the walls of your home; you just plug the vacuum hose right into the wall, and the dirt is sucked away.
Vacuum system repairs are followed by repairing outdoor lighting, and installing or resurfacing tennis or other sports courts or putting greens.
From coast to coast, different priorities stand out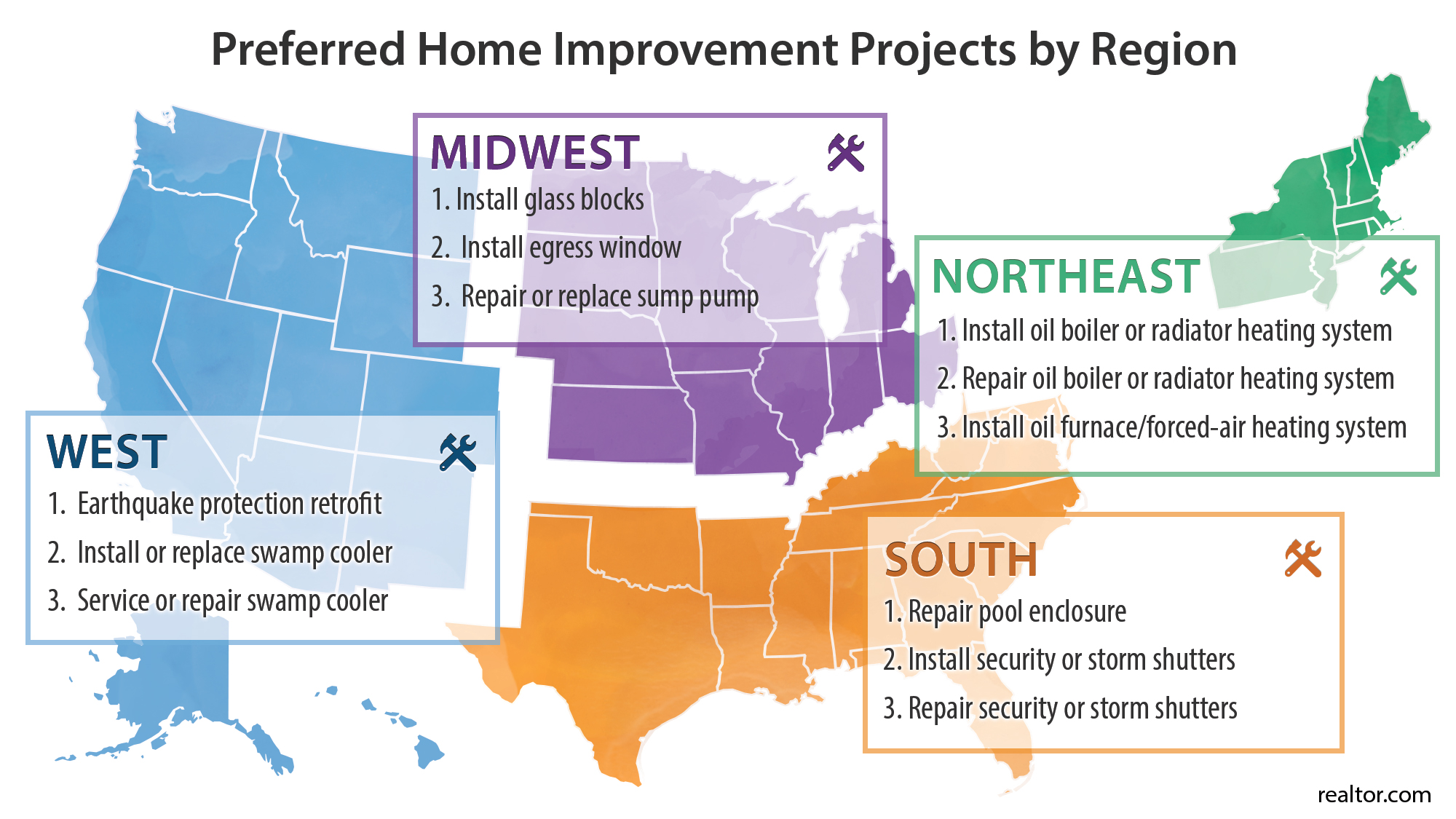 You may not have much in common with your neighbors (as can be seen from your holiday light displays), except when it comes to your home improvement projects. Certain home projects are favored in certain regions because of the areas' environmental conditions.
Just look at the South, where hurricanes and pesky mosquitoes are major issues. So it makes sense that this is the region where requests roll in to prevent and fix storm damage, and keep those blood-sucking pests at bay. Pool enclosure jobs and security- or storm-shutter repairs and installations are also twice as likely to be requested in the South than in other regions.
In the earthquake-prone western swath of the country, homeowners are ready. Retrofitting their homes with earthquake protection is a popular project in the region, followed by installing or replacing those ever-popular and electricity-bill-lowering swamp coolers.
While desert residents seek to cool off, Northeasterners are trying to turn up the heat. Where winter temperatures regularly dip well below freezing, heating system installations and repairs are more popular projects.
But while much of the Midwest is just as cold, if not colder, than the Northeast, some top service requests there are not related to heat. Midwesterners spend on basements, installing egress windows, sump pumps, and waterproofing. But they are more likely than homeowners in any other region to install glass blocks, which let in light without sacrificing privacy, and also lose less heat than windows.
Your home's age can predict what you'll improve next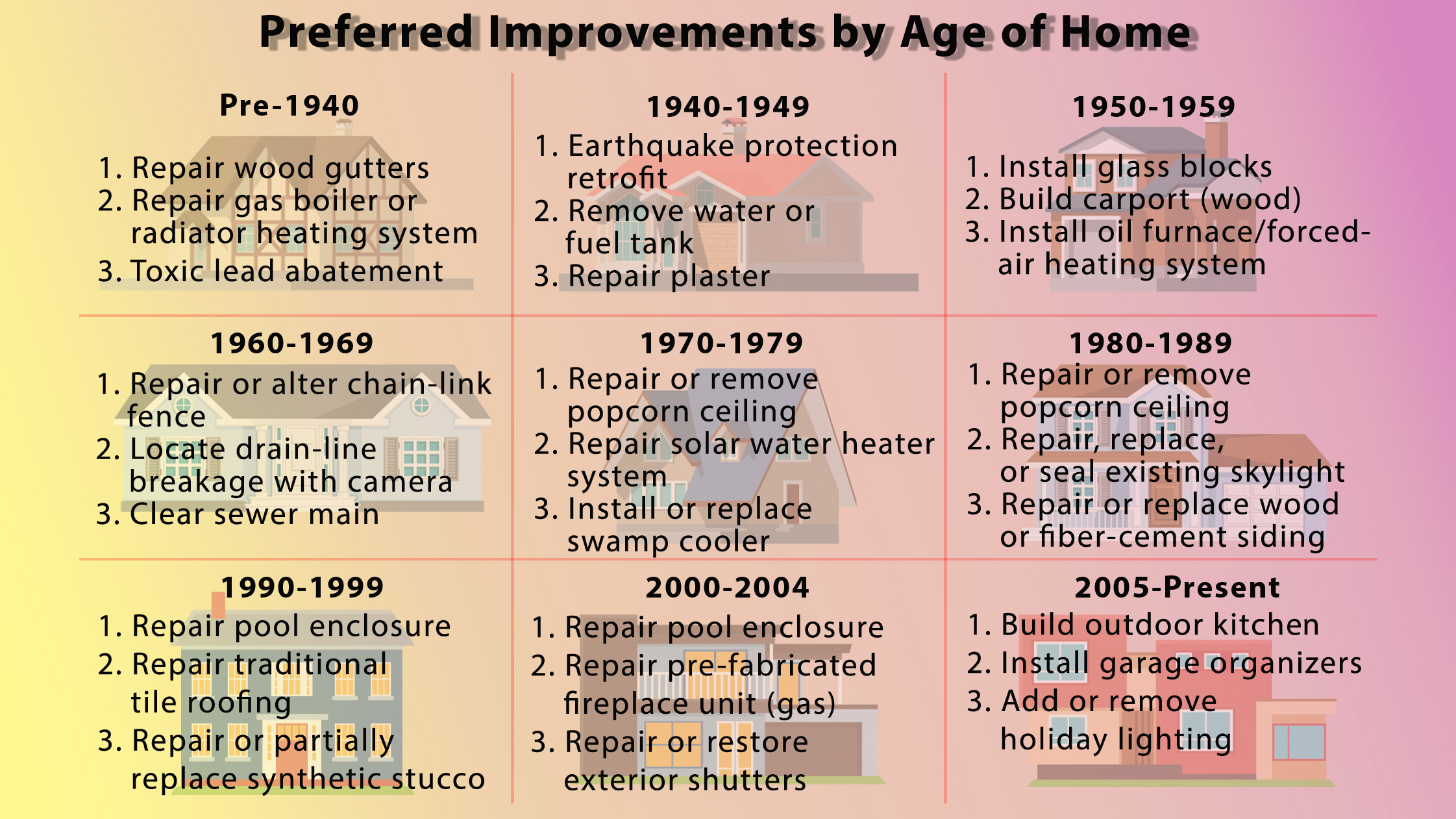 For homes built before 1940, repairs of wood gutters and heating systems trend high on the list, along with abatement of toxic lead (hey, they didn't know better!).
Jumping ahead, owners of properties built in the 1950s are more likely to request glass block installation, to go with those sleek Mid-Century accents. Meanwhile, the repair that stands out for groovy '60s-era homes is mending or altering chain-link fences.
Owners of 1970s-era homes are fixing the solar water heaters that gained traction during the oil crisis, and repairing or removing popcorn ceilings. Those textured toppers are also a prime target of owners of homes built in the 1980s—in fact, that's a popular service request for homes built throughout that 20-year span.
The synthetic stucco, pool enclosures, and Mediterranean tile roofs favored by subdivision builders in the 1990s are now hitting life expectancy, putting those repairs high on the list for owners of those homes.
Newer houses tend to need fewer major fixes, of course. For houses built between 2000 and 2005, pool enclosure, repairs of prefabricated gas fireplace units and exterior shutters crown the list of service requests. Homeowners of places built after 2005 have it best in the repair department and can spend the most cash on recreational improvements like pergolas, in-ground pools, and home-theatre surround-sound systems. Outdoor kitchen and garage organizer installations are nearly three times more common in homes built within the past 12 years than for older homes.