While OTAs and hotels seem at odds with each other, they both have one important thing in common: their dedication to the customer— or more specifically the guest.
In regards to online booking, there are important and striking differences between how the two cater to the guest— which has resulted in OTAs seemingly dominated the online booking market.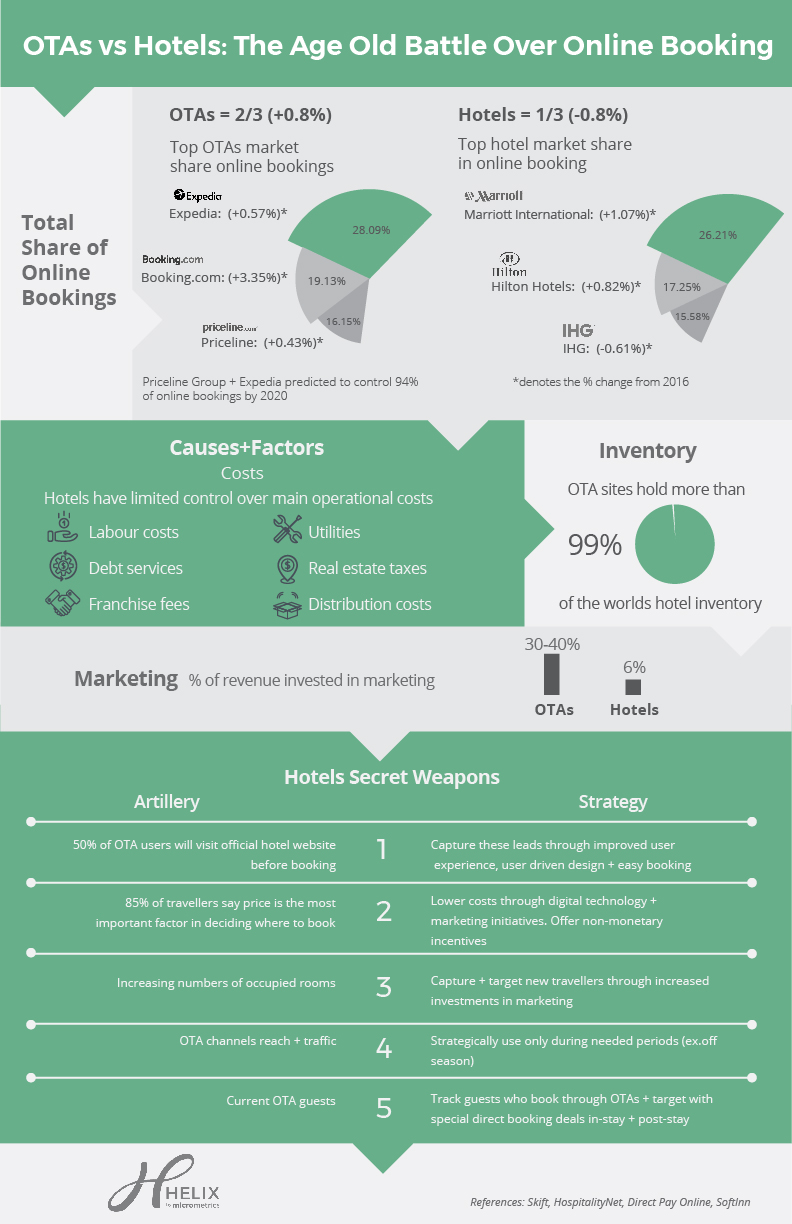 As shown, OTAs control approximately two-thirds of all online bookings, with an 0.8% increase from last year. On the other hand, hotels, controlling one-third, saw a 0.8% decrease in total share of online bookings since last year.
Within the OTA market, the top brands include: Expedia, Booking.com, and Priceline— which control 28.09%, 19.13%, and 16.15% respectively. OTAs show no signs of slowing down, as it's predicted the Priceline group (which includes Booking.com) and Expedia will account for 94% of all online bookings by 2020.
Within the hotel market, the top brands include: Marriott International, Hilton Hotels, and IHG— which control 26.21%, 17.25%, and 15.58% respectively. While overall hotels lost a small amount of market share, according to Skift, the number of occupied rooms in 2017 were more than those in 2016— meaning, the volume of bookings has increased.
This skew towards OTA online booking can be attributed to multiple factors. Compared to OTAs, hotels have limited control over their main operational costs, which include: labour costs, debt services, franchise fees, utilities, real estate taxes and distribution costs. Even more, OTA's increasing market share has caused hotel distribution costs to steadily rise over the last 5 years. Inherently, hotels have less inventory than OTAs— 99% less. As explained by Skift, this not only gives greater power to OTAs in marketing and online hotel sales, but also increases their bargaining power. Hotels face a dilemma of complying with OTAs and losing market share, or not complying and losing even more. Lastly, OTAs invest significantly more in marketing initiatives than hotels. While OTAs typically invest 30-40% of their revenue in marketing, hotels spend around 6%. This significant difference can partly explain why the guest believes OTAs to have cheaper prices— that's simply what they're more exposed to.
That being said, hoteliers have a few unused tricks up their sleeves. For starters, 50% of OTA users will visit the official hotel website before booking. Hotels can better capture the guest through improved user experience, user-driven design, and an emphasis on making booking as easy as possible. Within the hotel market, Wyndham saw the biggest market share gains, tripling its market share since last year. Their achievement can be attribute to their success in catching OTA users, and converting them before they leave. To do so, Wyndham improved their website by prioritizing guest experience, and improved their Rewards app's usability.
The overwhelming majority of travellers (85%) believe price to be the most important factor when deciding where to book— and associate lower prices with OTAs. Hoteliers can combat some of their operational costs, and consequently have more flexibility with pricing, through investing in digital technology. Moreover, through increasing their marketing initiatives and offering additional non-monetary incentives, hoteliers can better compete with OTAs on travellers perceptions of price. Barry Goldstein, Wyndham Hotel Group's chief marketing officer, revealed one of the major factors of Wyndham's success was their shift to an "intense focus on technology". Wyndham also leveraged travellers price sensitivity through consistently offering discounts to guests who book direct, and through implementing a summer travel message that highlights price.
Increasing numbers of occupied rooms have also opened the doors for hoteliers to increase their amount of direct bookings. Hoteliers should focus on capturing and targeting the guest through increased investments in marketing. Since last year, Wyndham has increased their marketing initiatives and placed within the top 10 largest hotel advertisers on US television, spending over $19 million.
Considering the reach and traffic OTAs generate daily, hoteliers should strategically use OTA channels only during needed periods, such as offseason. Even more, hotels should track guests who book through OTAs and target them with special direct booking deals during their stay and after they check-out.
It's finally time for the age-old battle between OTAs and hotels to end— and with a little refinement hoteliers may just come out on top.